Quite a sizeable portion of Chinese learners avoid learning Chinese characters from the very beginning. And due to the difficulty of Chinese characters, most Chinese learners' character recognition and writing abilities are not as good as their other abilities, such as speaking and listening. They perhaps thought that it is enough for them to learn these other skills, even without Chinese characters. Only after trying to reach an intermediate level, do they actually find that the mission becomes impossible. Along with the recently released New HSK Standard, Chinese characters have been put in a key position in the journey of learning Chinese. Since it's a character-oriented standard, HSK level 1 through HSK level 9 have certain requirements. Here is a chart for you to clearly see the corresponding character requirement for each level.
Level

Band

Chinese characters

Beginning

HSK 1

300

HSK 2

600

HSK 3

900

Intermediate

HSK 4

1200

HSK 5

1500

HSK 6

1800

Advanced

HSK 7-9

3000
So, in total, you need to master 3000
Chinese characters. In other words, with these characters, you will be able to
understand all words and sentences in daily life and even academic life. It
requires you not only to be able to recognize them but also write them with the
correct stroke order. Besides the definitions and pronunciation, writing speed
is also something you need to pay attention to.
To help you better deal with this new challenge, we have collected some helpful resources to assist with learning and practicing Chinese characters, including books, videos, courses, apps, and tools.
Books for learning Chinese characters
《汉字有意思》 Hanzi Alive!
Target audience: Adults; Children ages 3-6
Learning stage: Beginning
Purchase here: 汉字有意思 Hanzi Alive!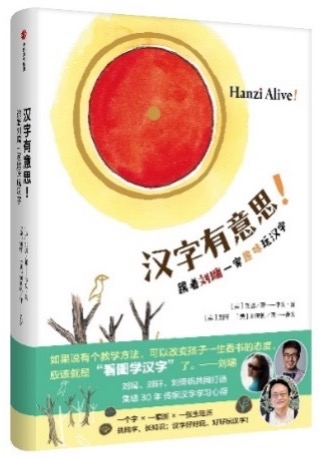 Review:
The authors of this book are Liu Yong and his son and
daughter. Liu Yong is a very famous writer, artist, and educator in China. His
teaching methodology is known for being very successful. So, he gathered the
essence of his enlightening Chinese character teaching methodology in this
book.
Each of the selected Chinese characters in this book includes a vivid hand-painted picture, a black and white silhouette, the evolvement from ancient versions to the present simplified and traditional versions, as well as a real-life photo game. There are also illustrative texts both in Chinese and English, so that learners from different language backgrounds can easily understand. With the hardback edition, there are also matching notebooks included for learners to imitate and practice. In general, it's a very good and enlightening book for all beginners and kids.
《神奇的汉字——汉字启蒙互动立体书》Magic Chinese Characters
Target audience: 3-8 year-old Chinese kids; 3-15 year-old foreign learners with help from parents or tutors
Learning stage: Beginning
Purchase here: 神奇的汉字
Review:
This series of books is designed for kids who need to learn and inspire their interest in and passion for Chinese characters. There are around 650 characters that were selected because of their strong connection. The key feature of this series is that it makes good use of the inner connection between similarly constructed Chinese characters. As we all know, pictographs are the base in the construction of Chinese characters. Here in this series of books, the 3D movable design for each character can be very interesting. It not only presents the Chinese pictographs, but also the process of combining them with radicals. The learning by playing method can easily draw kids' attention. With the illustrations and corresponding activities, learners can acquire more characters and easily distinguish similar characters.   The shortcoming is that it only has written explanations in Chinese. So, it's better to have a tutor with a background in Chinese so that the learners can understand it.
More books: Recommended Chinese Characters Books
Videos for learning Chinese characters
三十六个字 36 Chinese characters
Target audience: Adults, Kids
Learning stage: Beginning
Watch here: 三十六个字
Review:
This is an
ink animation made in 1984, a very typical Chinese-style cartoon. The pictures
may seem a bit old, but the content is still very appealing and educational
now. Within 11 minutes, it tells the story of how Chinese characters were
created by illustrating 36 Chinese pictographs.
If you look closely at these characters, you may find that most of them are the characters that beginners need to learn in their very first few Chinese character lessons. It's quite a good introductory video for all Chinese beginners.
The 36 Chinese characters are 日,山,水,鸟,象,森,林,草,夫,马,竹,田,刀,舟,鱼,网,燕,云,雨,伞,石,火,龟,虎,鹿,豕,叟,弓,舍,羊,花,门,犬,子,女,月。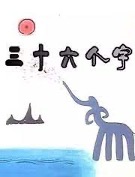 字从遇见你 (zì cóng yùjiàn nǐ)
Target audience: Adults, Kids
Learning stage: Beginning, Intermediate, Advanced
Watch here: 字从遇见你
Review:
This is an
official educational documentary that introduces 25 Chinese characters, including
each one's origin and evolution, as well as corresponding Chinese culture. Each
episode is around 5 minutes. Learners can not only learn more about the
character, but its culture and uses. Since the content is so rich and dense,
you might need to watch it over and over again to digest it. The whole evolution
process covers from thousands of years ago to modern China. So only if you have
more previous background knowledge, can you fully understand it. Still, it's
quite high-quality introductory content for Chinese characters.
The characters include: 舟,车,行,中,鼎,卜,天,福,犬,虎,马,牛,象,文,郭,陶,教,丝,甑,贝,走,图,典,册,笔
神奇的汉字故事
Target audience: 3-12 year-old kids who are able to listen to Mandarin
Learning stage: Beginning
Watch here: 神奇的汉字故事
Review:
There are 20 episodes in total. Each episode introduces where a character came from, what it means, and its evolution process. Then there is a short story about the character so that it can be made more interesting, while still educational. However, the problem is that there are no English subtitles; it's all in Chinese. So, it's better if the kids are able to understand spoken Mandarin.
一起画汉字
Target audience: 3-12 year-old kids who need to learn writing
Learning stage: Beginning
Watch here: 一起画汉字
Review:
Writing Chinese characters is always a tough task for all learners. Especially kids, who are more impatient to practice. Based on kids' aptitudes and the features of Chinese characters, 一起画汉字  eases the difficulty. It creates a lovely, simple painting based on each character's shape. In this case, learners can memorize characters more easily by painting. But note that it's not the real origin of each character. It's just a method to help memorize and write them.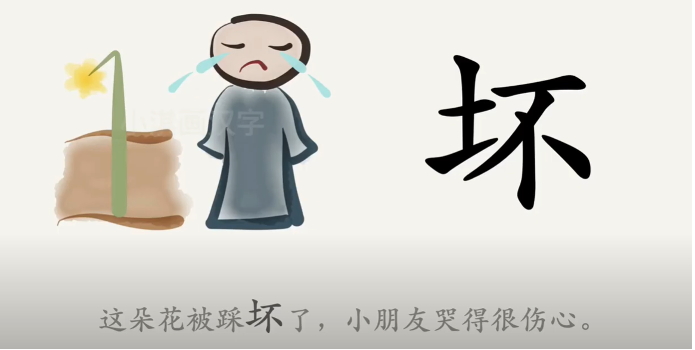 Courses for learning Chinese characters
Comprehensive Guide to Chinese Characters
Target audience: People who are new to learning Chinese;People who want to learn the basics of Chinese Characters
Learning stage: Beginning
Learn here: Character Course A
Review:
Apart from the tons of introductory content we've
presented so far, here are courses for learners who are ready to learn Chinese
characters properly and in an organized way.
Course A is a comprehensive guide to Chinese characters, which helps you understand the rules and theories. From basic strokes to character construction, you can find everything you need to know before you dive into the sea of Chinese characters. It not only illustrates the basic information about and logic behind characters, but also the fundamental rules and methods. Good preparation brings you halfway to mastery. Then, this is the course for those who have just gotten started with learning Chinese characters.
Building-up from zero to hundreds Chinese Characters
Target audience: Elementary level learners who are interested in learning more Chinese characters.
Learning stage: Beginning
Learn here: Character Course B
Review:
Course B is a build-up from zero characters to hundreds.
You can learn about 250 Chinese characters in this course. They are categorized
by topic, ranging from weather to plants. Each video lesson consists of a
breakdown of the characters, their origin, commonly used grammar patterns, and
then a stroke-by-stroke writing tutorial of the character.
In addition to the tutorial content, there are also supplementary quizzes and exercises to do. After watching each lesson, you can practice with their writing sheets to strengthen your knowledge.
Apps for learning Chinese characters
Chineasy
Target audience: Adults, Kids
Learning stage: Beginning
Download here: iOS
Price: Partly free
Review:
Dig Mandarin has introduced Chineasy and its founder Shao Lan years ago. Now not only is there the book, but they also used their advantage to create a Chinese character learning app. With its featured vivid illustrations, it divides thousands of Chinese characters into hundreds of short lessons. You can choose either the simplified or traditional version. After learning the basic characters, there is a follow-up lesson to make these characters into daily words. The quizzes contain tests for pinyin, listening, character shape, and meaning. If you would like to get more functions, you can pay to learn characters by HSK level and practice writing them. For elementary learners, this is a method you should definitely try.

Skritter: Write Chinese
Target audience: Adults, Kids 6 years old and above
Learning stage: Beginning
Download here: Skritter
Price: Partly free; 1 month $14.99, 6 months $59.99, 1 year $99.99
Review:
Unlike many apps' fancy interfaces, Skritter is designed to be very direct and simple. For learners who are strongly self-driven, it can be quite efficient. There are vocabulary lists for hundreds of Chinese books, and you can choose any one of them as your target book. For those who already have a particular textbook, this app can be very useful as your character review helper. Its quiz part also contains various elements. Apart from the definition, pronunciation, tone, and example sentences, it also strengthens stroke order. You can learn to write and memorize characters with it.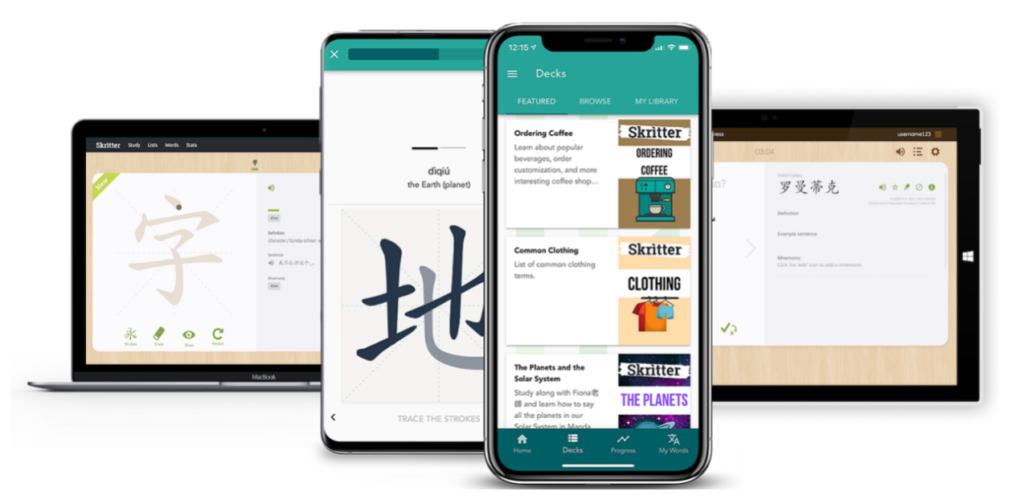 Zizzle
Target audience: Adults, Kids
Learning stage: Beginning, Intermediate
Download here: Zizzle
Price: Partly free; Use the promo code "DIGMANDARIN10" to save 10% on all three-month and annual subscriptions, as well as packs.
Review:
Zizzle has already collected over 850 key Chinese characters from the HSK basic and intermediate levels. Zizzle has created a very different character memorizing method from other apps. Each character has a particularly ridiculous short story to help you learn the pronunciation as well as the meaning. It also uses pictograph characters to make pictures that will help you better memorize the shape of the character. They basically put everything together in a short story. No matter whether you are an adult or a child, you will have fun in the learning process.
悟空识字
Target audience: 4-8 year-old kids who are able to listen to Mandarin
Learning stage: Beginning
Download here: iOS, Android
Price: 198 yuan
Review:
Sun Wukong is a very well-known monkey character in Chinese culture. All Chinese kids know him. This app is designed based on Wukong's little stories. Each lesson is a story-based game that helps teach several characters. There is also a distinguishing part for learning characters, which is quite helpful for memorizing them. This app contains 1200 Chinese characters in all lessons. A lesson per day for 10 minutes sounds reasonable for kids. Plus, cute stories can be very interesting for kids.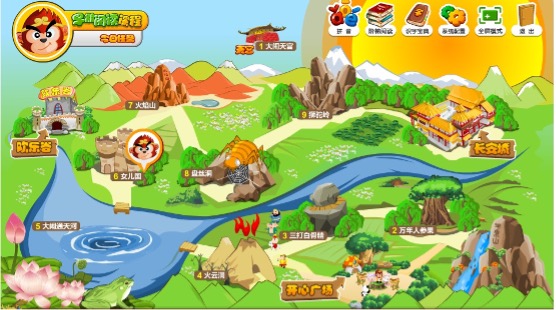 Tools for learning Chinese characters
Meaningfully learning Chinese characters
Target audience: Adults, Kids
Learning stage: Beginning, Intermediate, Advanced
Use it here: Meaningfully learning Chinese characters
Review:
This is a kind of Chinese character dictionary. Besides Pinyin, there are also etymological explanations in Chinese, English, and French. It also shows you the ancient versions of each character. The fun part is that it generates a graph with branches of related characters. You might find several other related characters to learn and distinguish between.
汉典网 (hàn diǎn wǎng)
Target audience: Adults and kids who are beyond the basic level
Learning stage: Intermediate, Advanced
Use it here: 汉典网
Review:
This online dictionary is not only for Chinese learners but also for native Chinese speakers. It lists all pronunciations, simple explanations, detailed explanations, and character origins. The stroke order of each character is also represented. Sometimes it might be too comprehensive and thorough to quickly locate the item you need to know. And it's mainly explained in Chinese with very simple English definitions. So using this website is already a sign that your level is intermediate or advanced.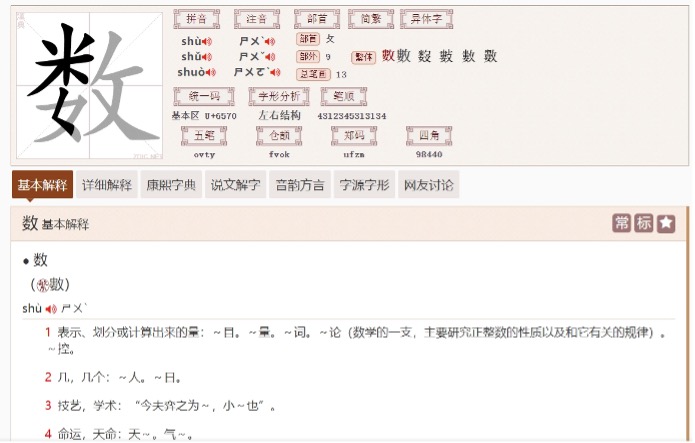 Writing sheet generating tool
Target audience: Adults, Kids
Learning stage: Beginning, Intermediate, Advanced
Use it here: 字帖生成器
Review:
If you've ever learned writing Chinese characters, you are definitely familiar with character writing sheets. It's either with a 田 square (田字格) or a 米square(米字格)so that you can write each character in the right place properly. With this tool, you can generate your own practice sheets. Input the target character, and it can even show you its stroke order so that you can better practice and imitate.