Two weeks ago, I attended a one-week intensive Mandarin language study program in Shanghai by GoEast Mandarin. This is my review of their program.
The first day of China Quest Shanghai 2023.
TLDR;
One week in Shanghai, staying in a 4-star hotel near the GoEast Mandarin language training campus.
Four hours of Mandarin instruction every day (20 hours total), which included 3 hours of classroom learning and 1 hour of "in-field" practice with the material learned in class. (This was my favorite part of the trip — more on this later).
Daily tours of scenic spots in Shanghai, accompanied by an English (and Chinese!) speaking tour guide and several Mandarin teachers.
The opportunity to meet interesting people from all over the world who were also students on the trip.
I LOVED it. I learned a lot, had plenty of chances to practice Chinese, and returned more excited than ever to keep learning Chinese!
Arrival
After landing in Shanghai and going through customs, I was greeted by a man holding a large sign with my name on it.
Perfect! Any anxiety I had about where to go instantly melted away.
The driver took me to the private car and drove me directly to the hotel, where I met Maria, one of GoEast's co-founders and a program coordinator.
In addition to giving me basic details about the logistics of the coming week, Maria also gave me a portable WIFI brick (so I could stay connected to the Internet and use services without specifically needing a China SIM) and a pre-loaded metro card to be used on all forms of public transportation for the week.
The Hotel
Our hotel was equidistant from Jing An temple (a major tourist hotspot surrounded by restaurants, malls, and cafes) and the GoEast campus. Easy access to the subway and walkable access to countless shops and cafes. Perfect.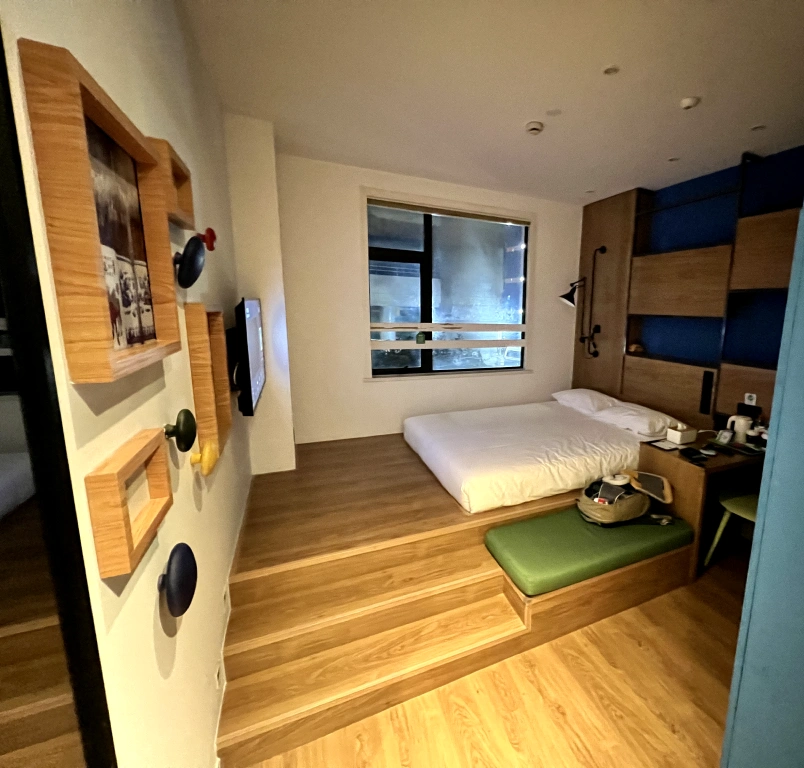 My hotel room. Simple and modern.
Heading out the first day, ready for adventure.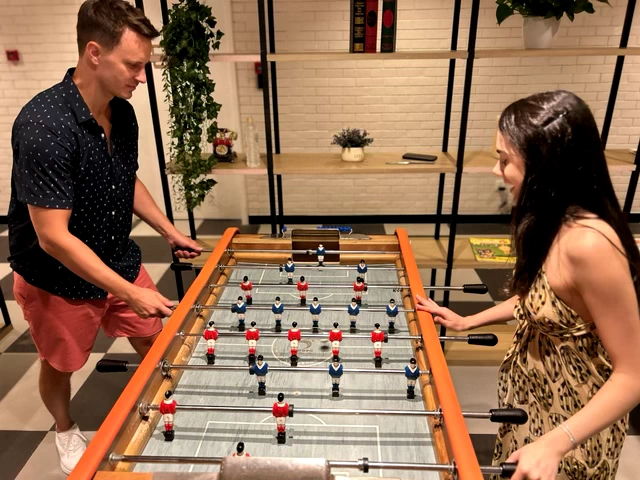 The hotel lobby, where I most certainly beat all my opponents at foosball.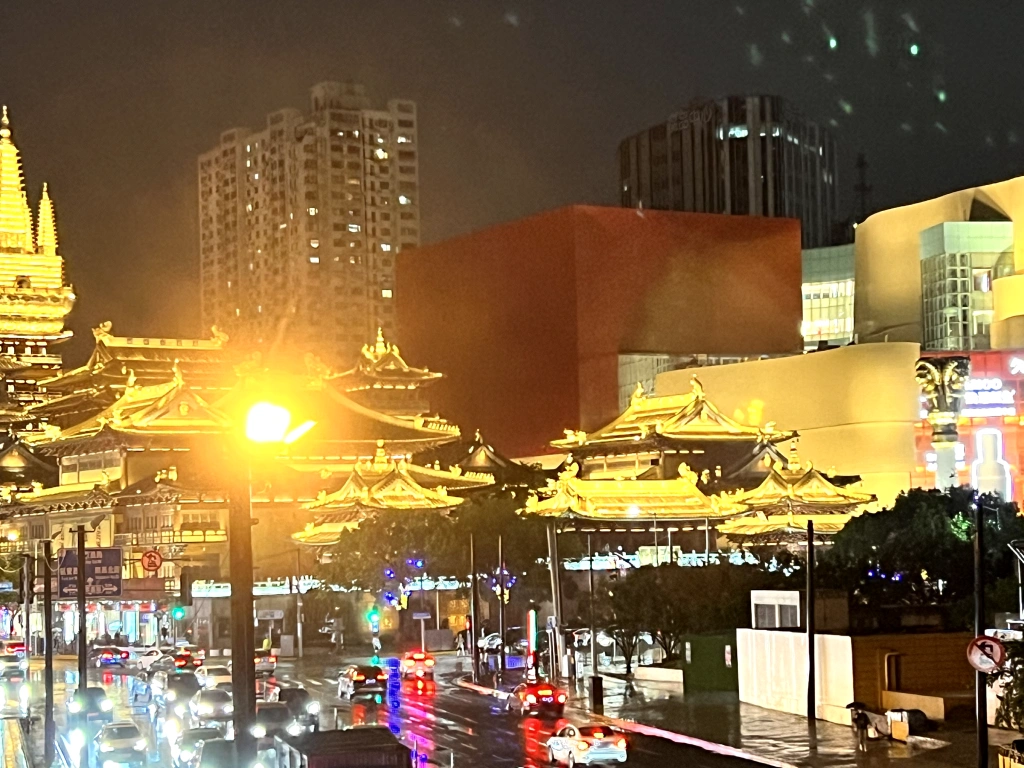 Jing An temple at night.
The GoEast Campus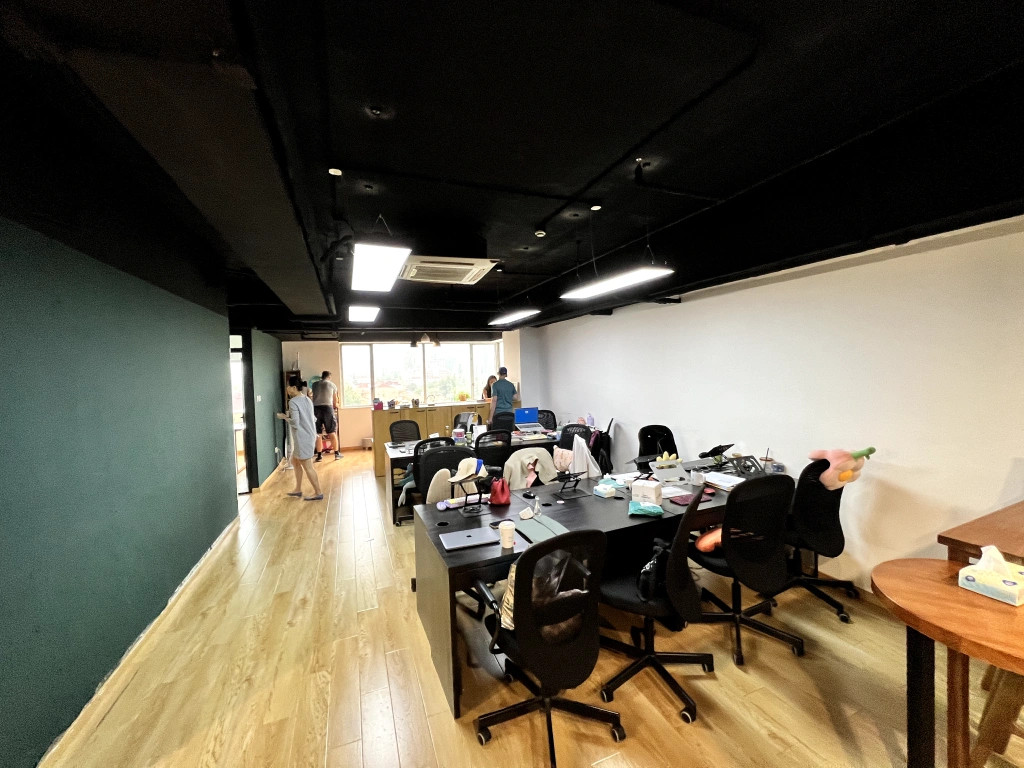 The "Calm before the storm" at about 8:45am every day, just before the teachers arrived.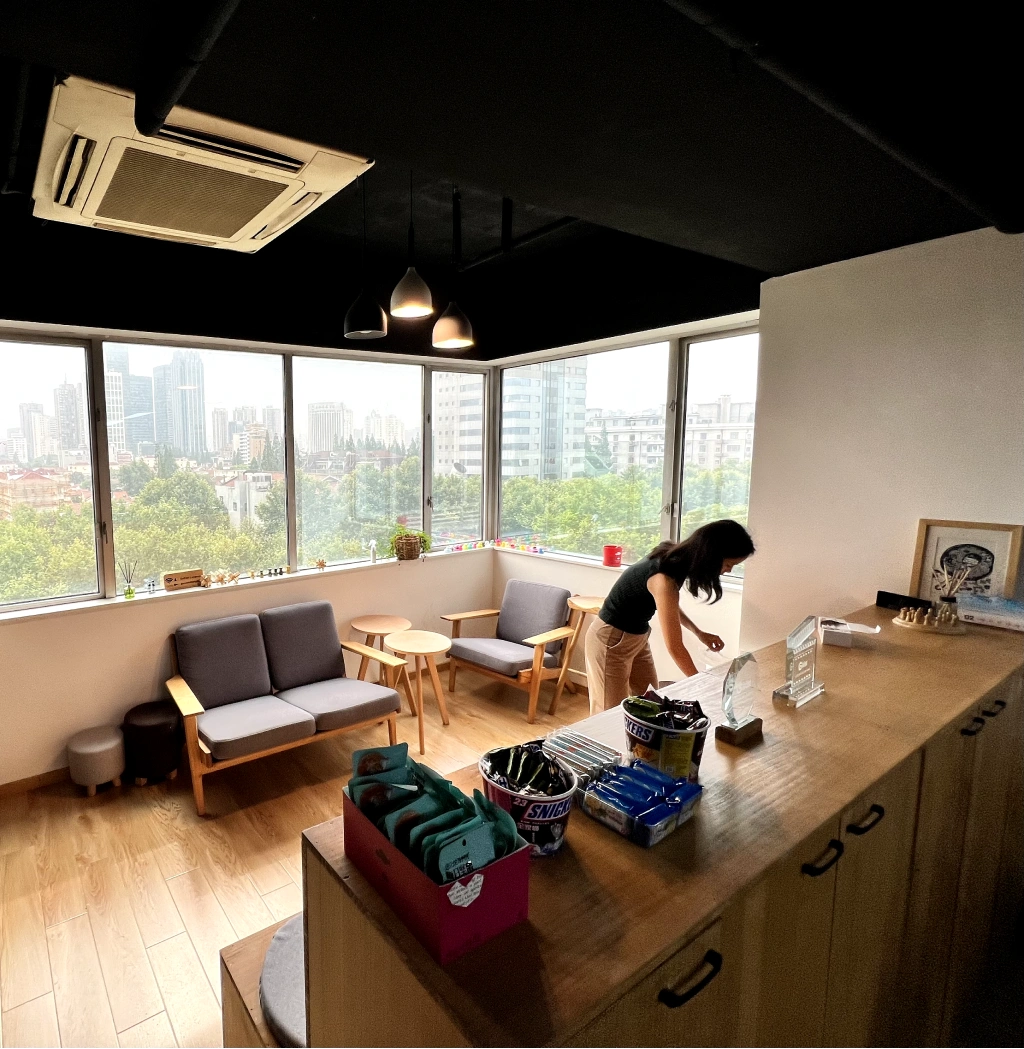 A space to chill during breaks. Coffee, water, and snacks included — because no one wants to teach hangry students 😉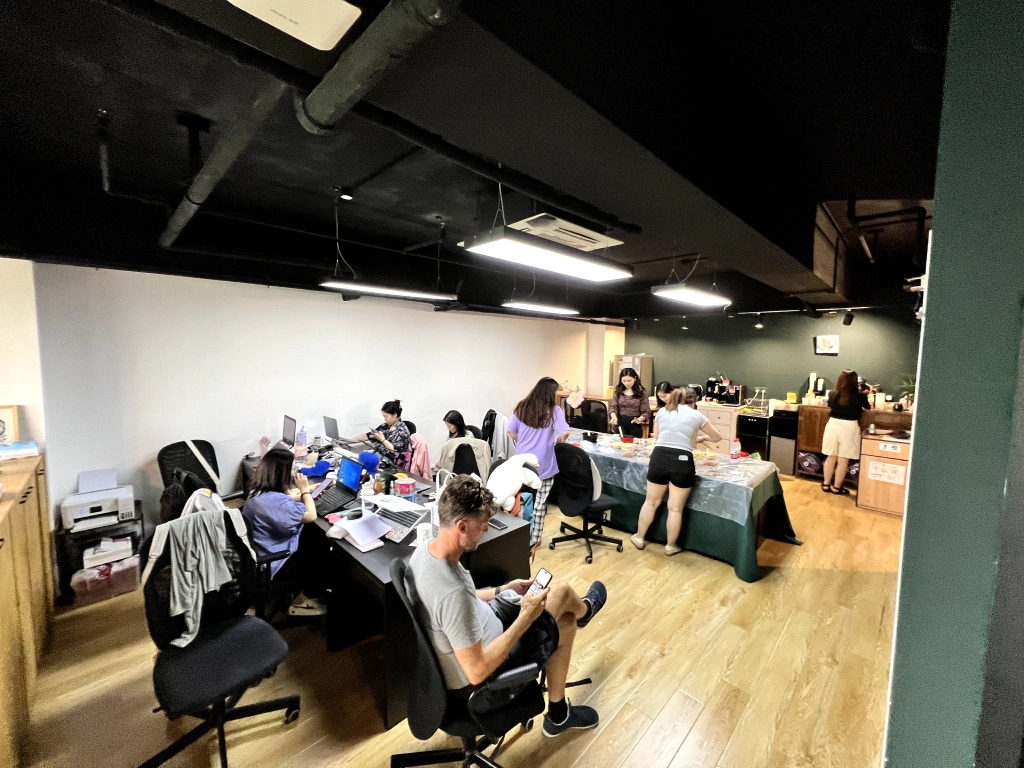 A few teachers have arrived!
The Teachers
The teaching staff at GoEast are career teachers who (in addition to formal study in education at university) have undergone a rigorous 2-month training program prior to taking students at GoEast. Further, each teacher is continuously subject to peer review of their teaching methods to ensure their students have the best learning experience.
Every teacher I met was well above average — with quite a few being *outstanding* in their ability to teach concepts while encouraging students to continue their conversations with Chinese.
I've previously written on how to choose a Chinese language school. GoEast ticks all the boxes!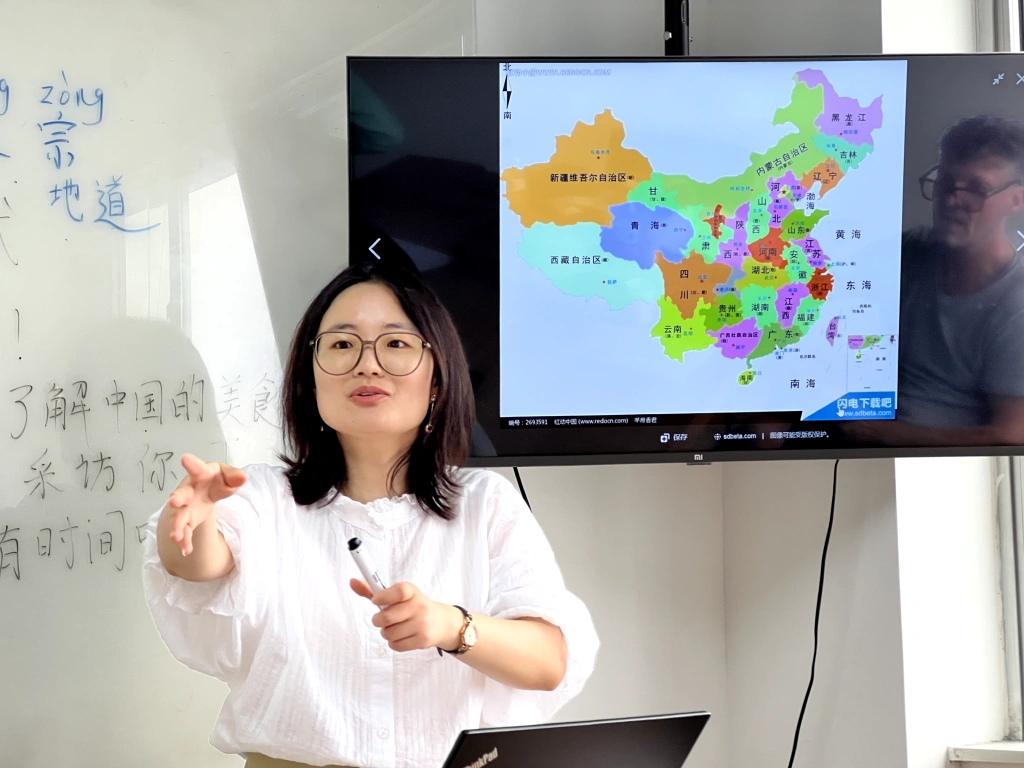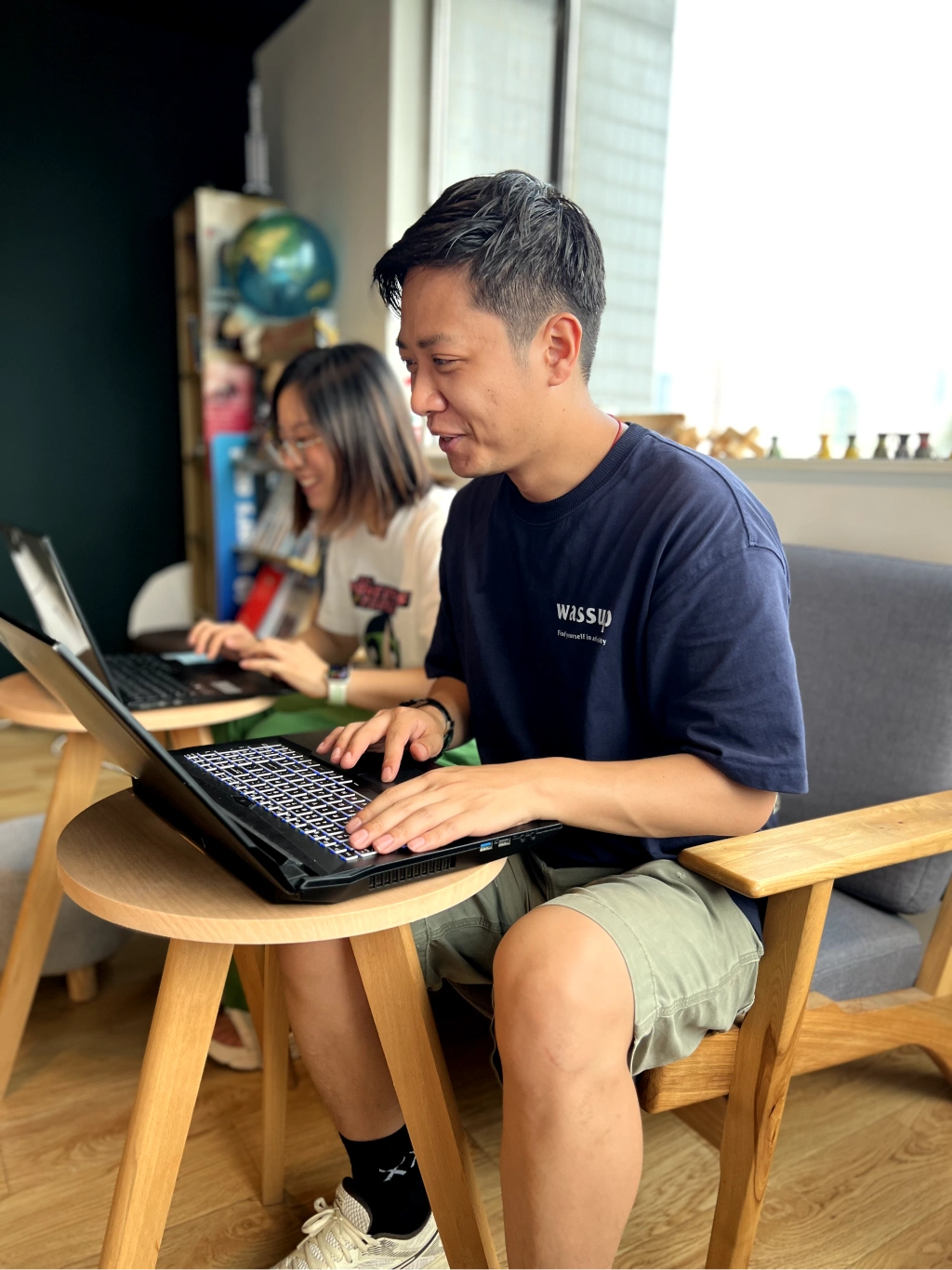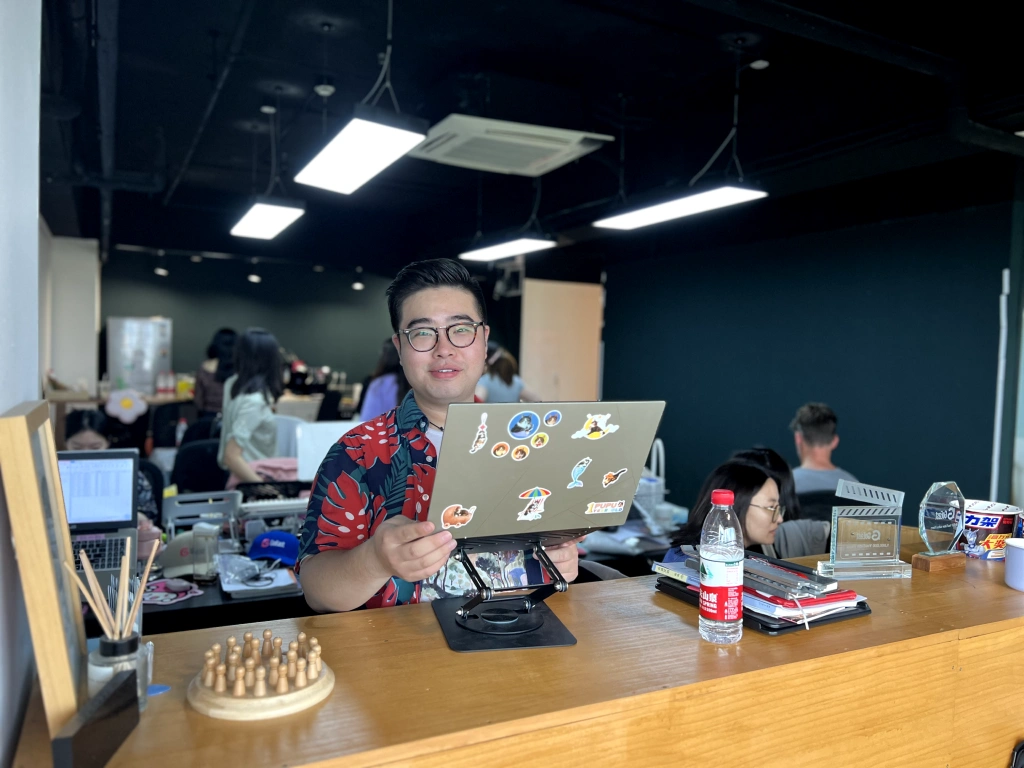 The Daily Schedule
7:30 am – I woke up each day with just enough time to shower, get dressed, and head downstairs to meet my other program participants in the hotel restaurant.
8:00 am – Eat a quick breakfast from the included buffet (coffee, muffins, eggs, bacon, dumplings, vegetables, toast, fruit, yogurt, fresh juices, etc.) while discussing yesterday's classes & activities, finish any remaining homework, and practice Chinese with other hotel guests.
8:45 am – Walk (as a group) over to the GoEast campus. The walk was about 15 minutes down Wulumuqi Road, passing coffee shops, bakeries, and young professionals commuting to work.
9:00 am to 12 Noon: Three hours of Mandarin instruction and one hour of "In-field" experience.
12-2: Walk to a nearby restaurant and enjoy Chinese cuisine.
2-6 pm: Walking tours around Shanghai scenic spots with English and Chinese-speaking guides.
Before Bed: Light homework, typically reviewing and previewing, ~30mins. I would also put the words I learned that day into my Hack Chinese "China Quest" list and spend a few minutes reviewing them. No sense in forgetting what I learned!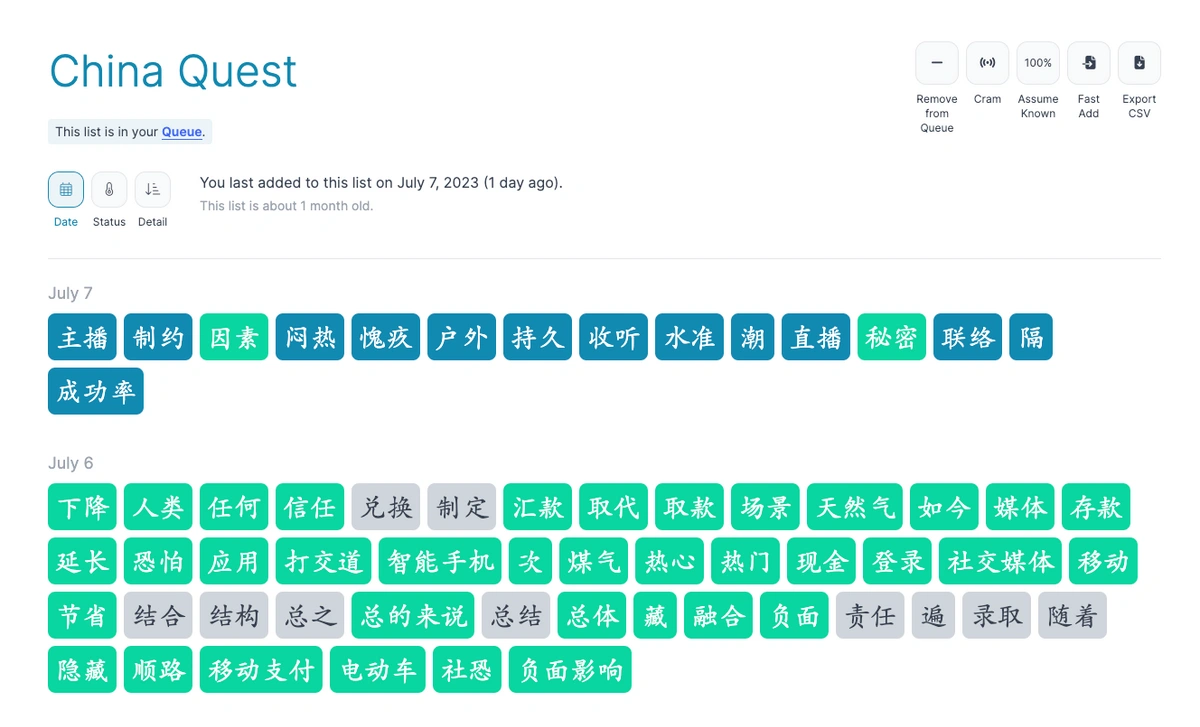 I added vocabulary from our classroom and activities each day into Hack Chinese. Hack Chinese already knows which words I have learned previously — so my reviews were focused on those words I actually needed to review!

The number of steps I walked each day. Can you tell which week was China Quest, which included several hours of walking around Shanghai every day?
The Crown Jewel of China Quest – "In-field" experiences
Each day, our learning material was accompanied by an "In-field" experience, where we could bring what we learned into the real world and practice!
In-field experiences:
Monday – Learn about food and ordering at a restaurant
In-field: Order lunch in Chinese at a nearby Chinese restaurant
Tuesday – Learn about the ecosystem of apps that power daily life in China
In-field: Interview Chinese teachers (whom you do not yet know) about their app preferences, then report back to your class
Wednesday – Learn how to use apps to order food delivery
In-field: Order food and coordinate delivery with the delivery person after observing various food delivery spaces at the nearby office parks
Thursday: Learn about the culture surrounding 网红 (internet-famous hotspots and celebrities)
In-field: Interview three strangers (on the street!) about their perspective on China's 网红 culture
Transformational
While my Chinese level was well above what was required to complete these tasks, it still felt great to accumulate more experience using Chinese "in the wild." It's sometimes easy to forget that you can use your Chinese outside of a classroom!
For some of the other program participants, these in-field experiences were game-changing.
Why?
Because nothing improves your confidence with Chinese like actually using it. You can study from books and apps and in classrooms all day, but successfully navigating real conversations in your target language is what dreams are made of!
I was nervous
We were all quite nervous about approaching strangers on the street to ask if we could interview them. I'd be nervous if I had to do that in English!
…and it was awesome.
But we were never really at risk of failing; teachers were nearby who could jump into assist if you needed it.
For some students, ordering Chinese in a restaurant was proof that they had a command of Chinese that was good enough to live in China. What is the value of an experience like that?
I wish more learning programs made these types of experiences a cornerstone of the curriculum!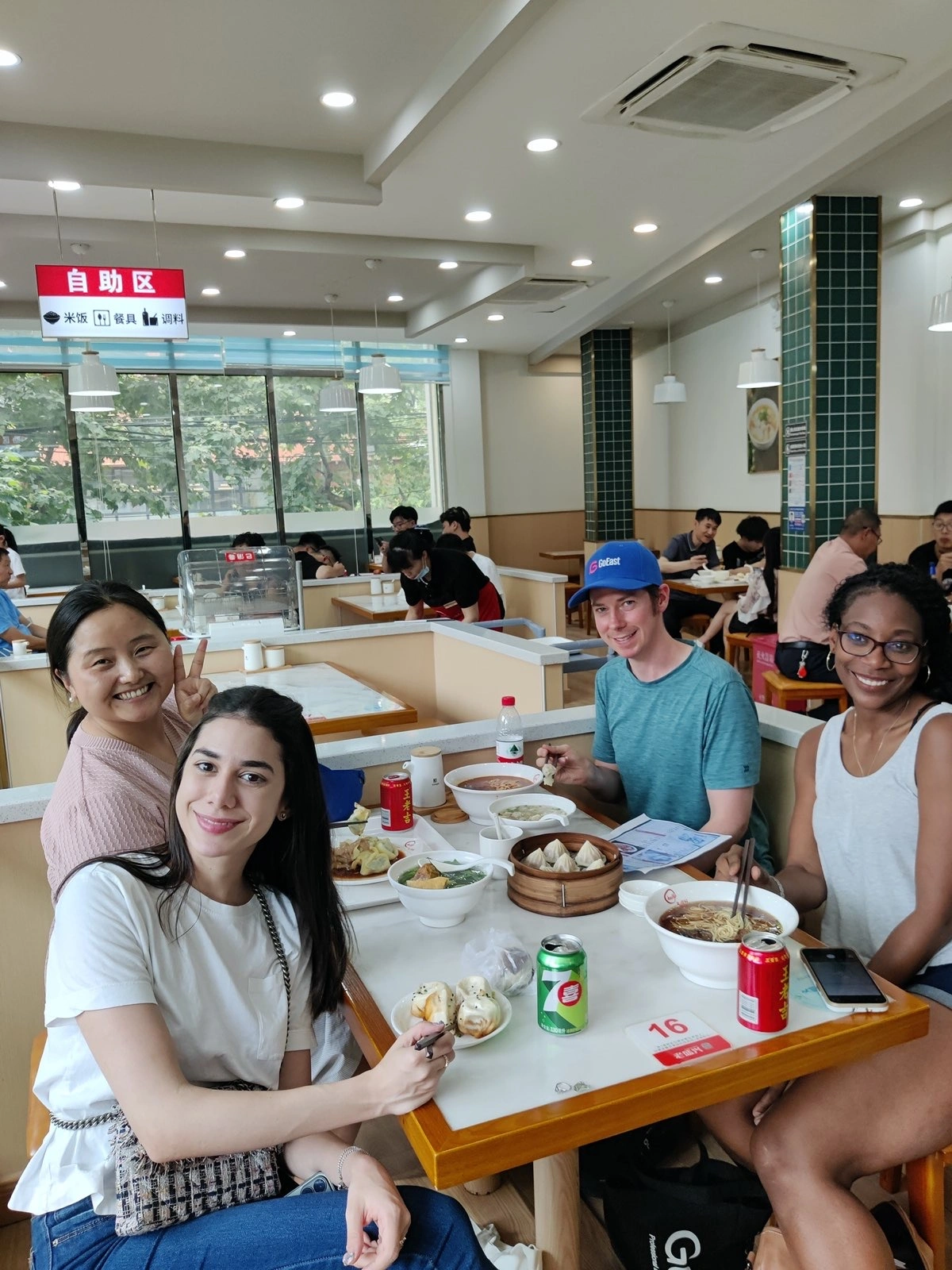 Our in-field experience was ordering Chinese food; the reward was plates of 小笼包 and other Shanghai delicacies.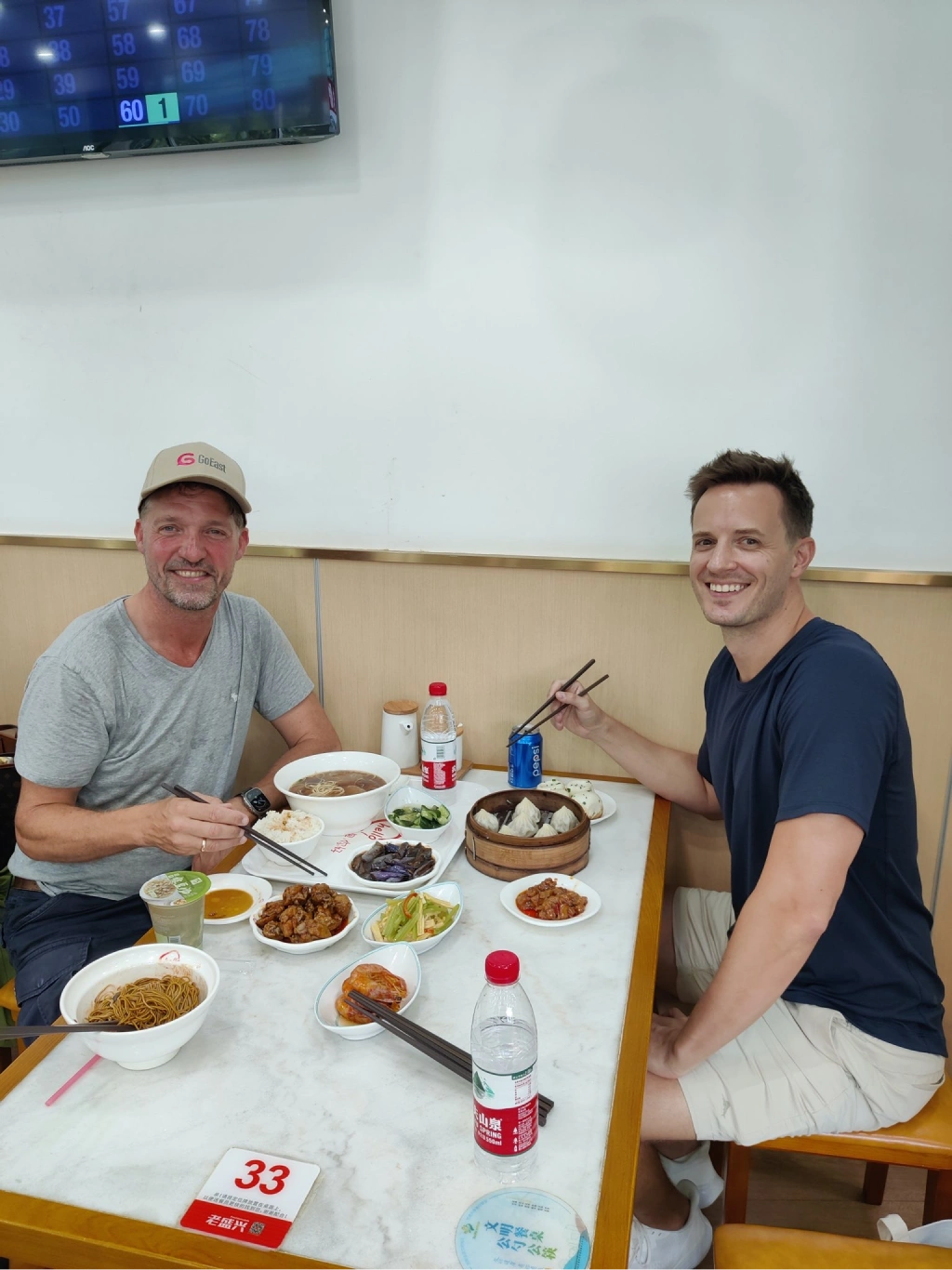 Success! Nom nom nom…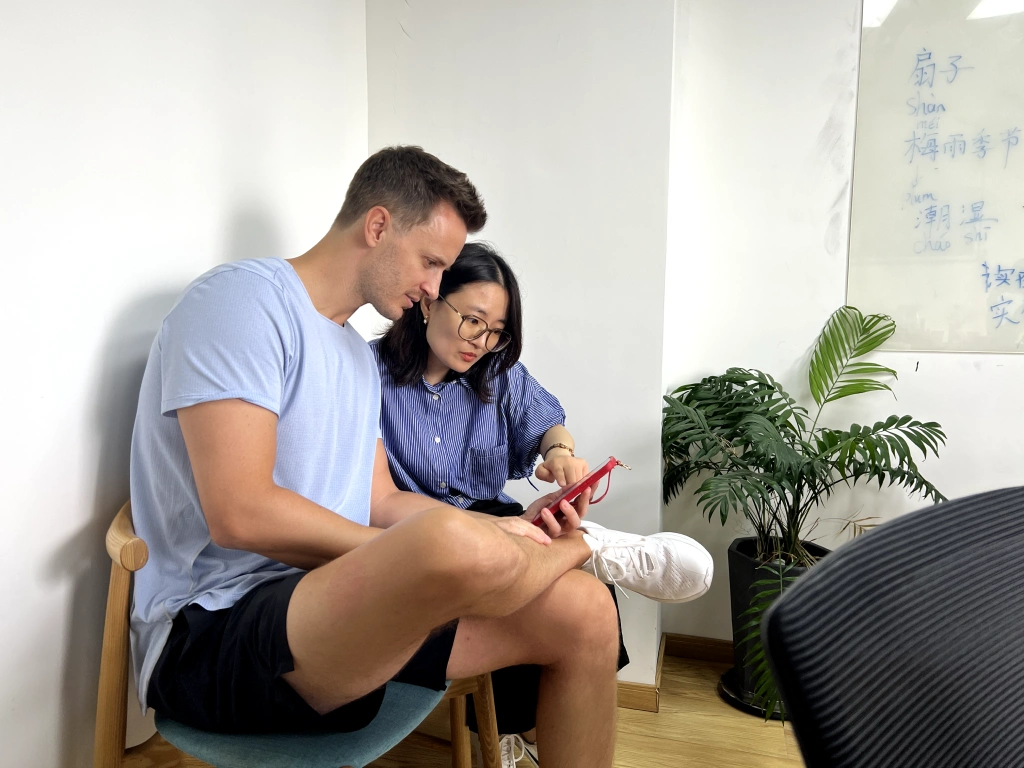 Our third in-field experience began with ordering food delivery.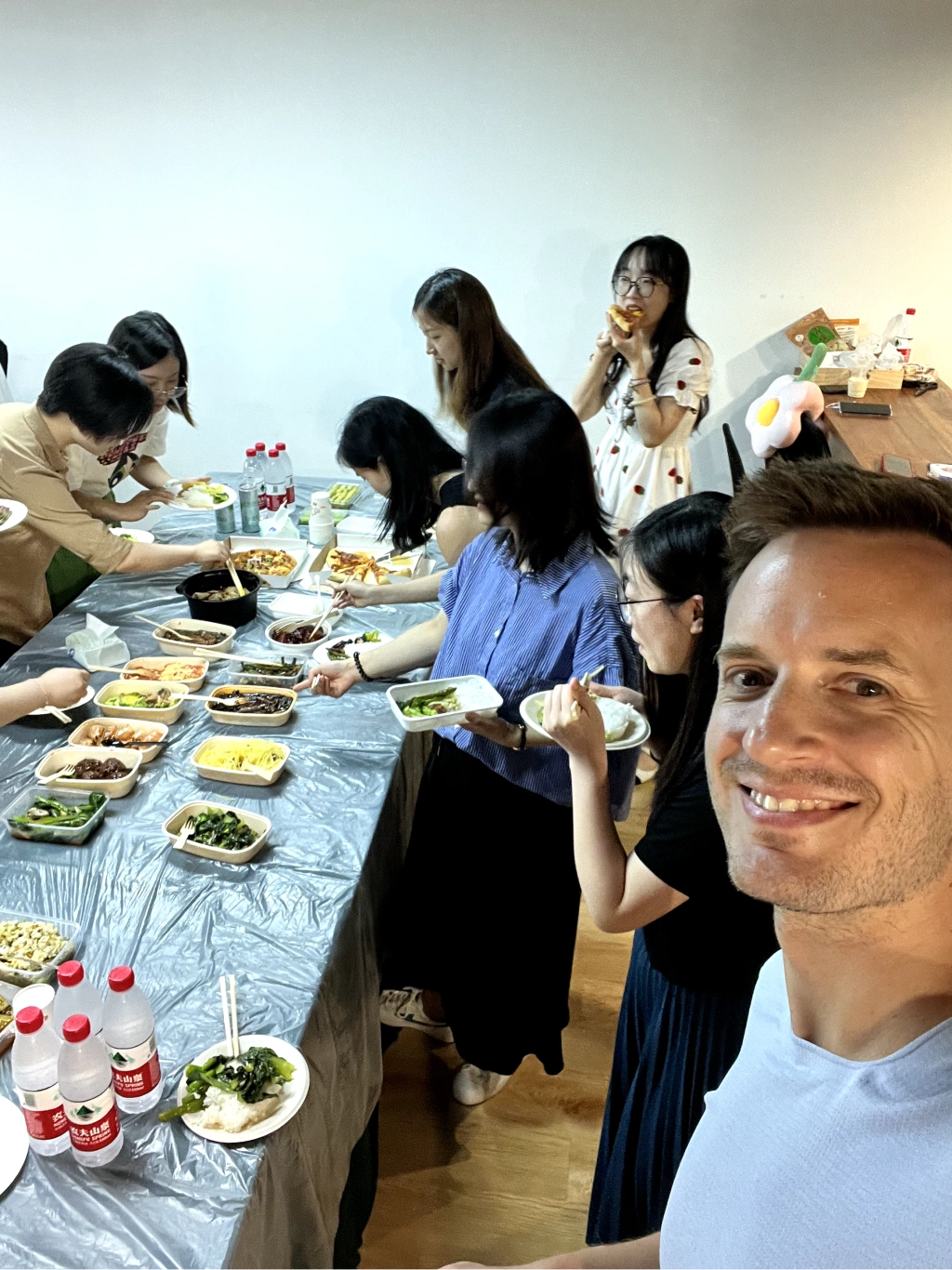 Success! With food delivered, it was time to eat.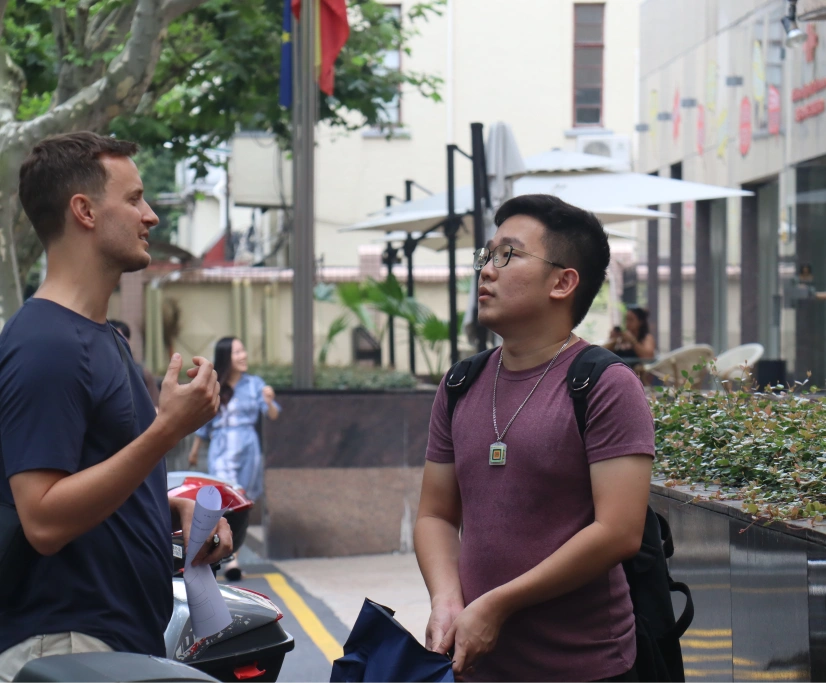 Our fourth in-field experience was interviewing strangers on the street about their perceptions of 网红.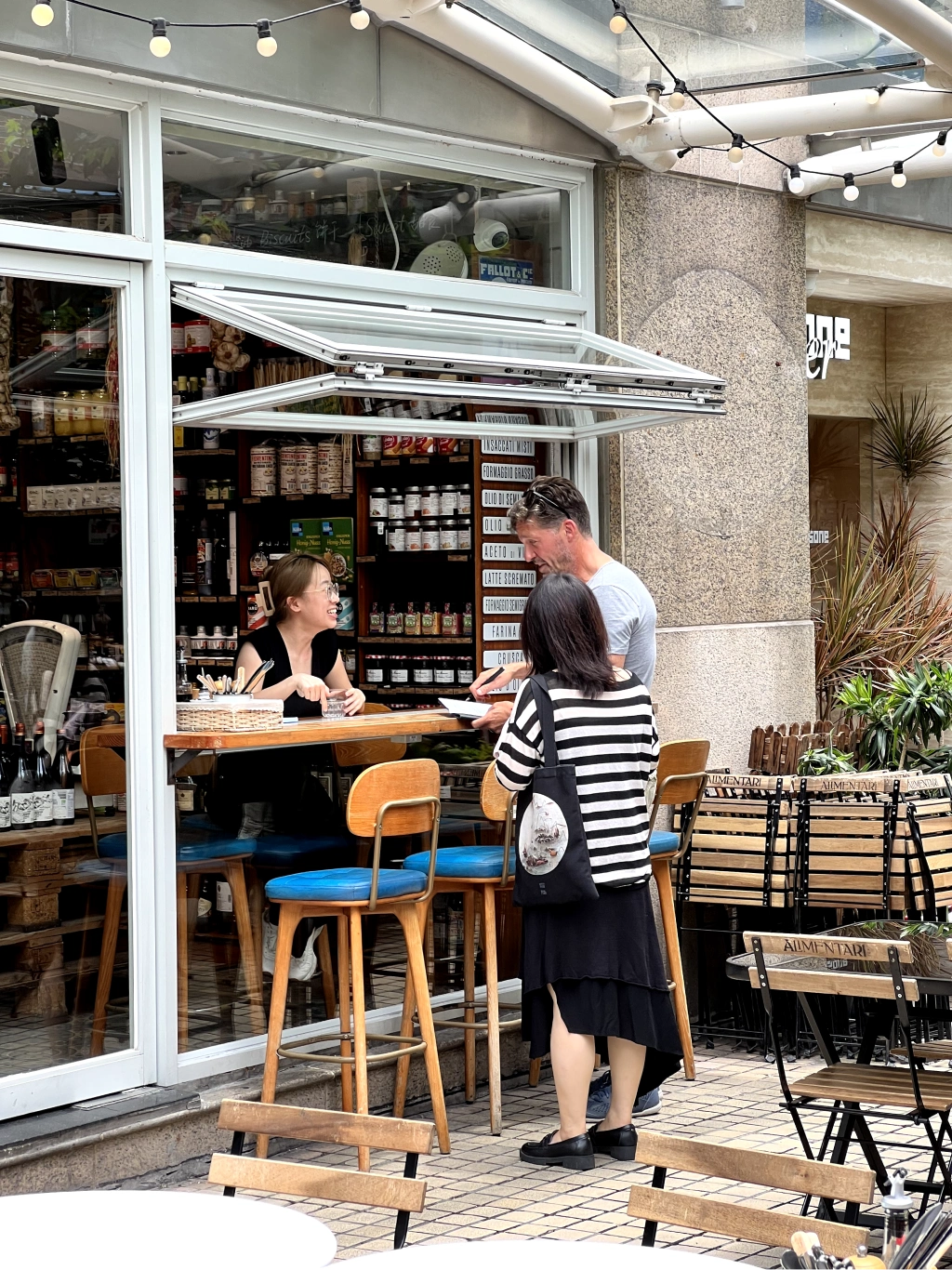 Another student interviewing a 陌生人.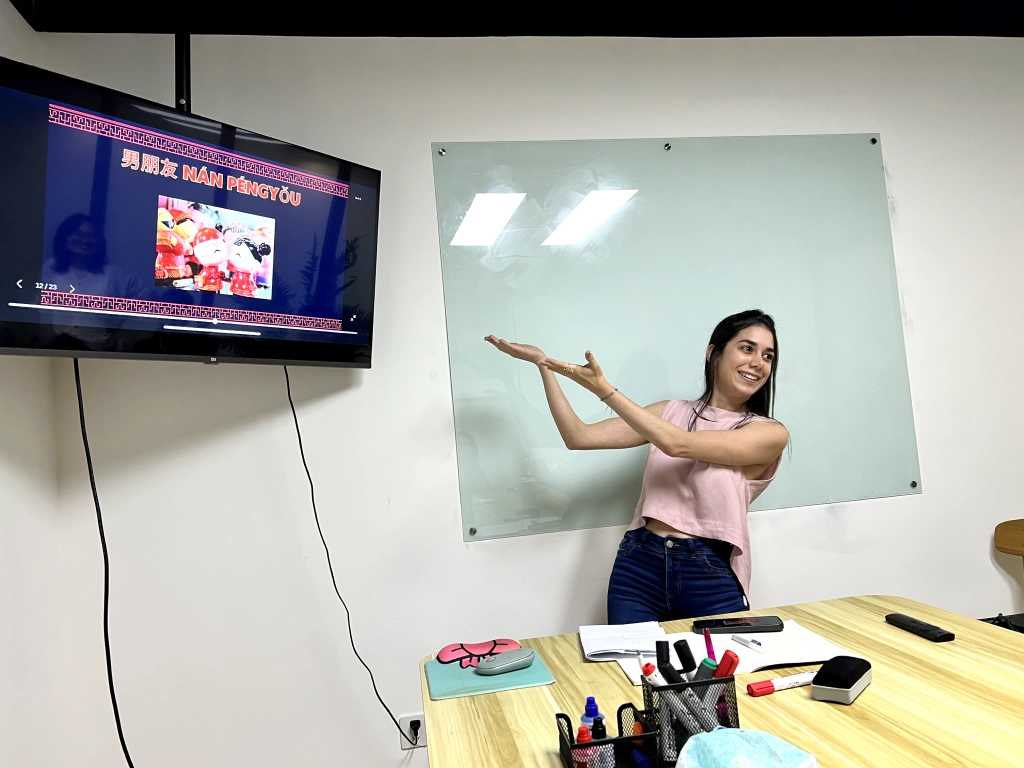 A program participant explained what she is looking for in China.
Who is China Quest good for?
People of all ages can enjoy China Quest. Our group had students from 25-50 years old.
In my estimation, three types of people can benefit from this type of short-term intensive experience:
People looking to re-ignite their passion for learning Chinese. This was me. I've studied formally in the past, but I mostly keep up my language now as a hobby, watching Chinese TV shows and listening to Podcasts. I speak Chinese occasionally, but not nearly as much as I used to.For people like me, China Quest is a great chance to speak Chinese daily, surrounded by a supportive network of students and teachers. I have yet to find any activity more motivating (to learn Chinese) than simply engaging in genuine conversations in Chinese.
People approaching (or squarely on, or even escaping from) the intermediate plateau. If you've been studying for a while and need a boost of energy and conversation experience to jog your memory of why you are learning Chinese in the first place, this will be a great experience. You'll learn a few new things and have abundant opportunities to practice in class and outside of class.
"Advanced" Beginners. If you've learned Pinyin, have memorized several hundred words, and can read simple textbook dialogs, you will be well prepared to learn a lot on China Quest. But while China Quest is intense, it is also short, so the more you prepare before you go, the better.Two great ways to prepare could be using Hack Chinese to increase your vocabulary and attending online classes with GoEast or other excellent schools.

Spotted in the GoEast language center! Wait, what? You don't follow their YouTube Channel?! Here's the link: GoEast YouTube Channel.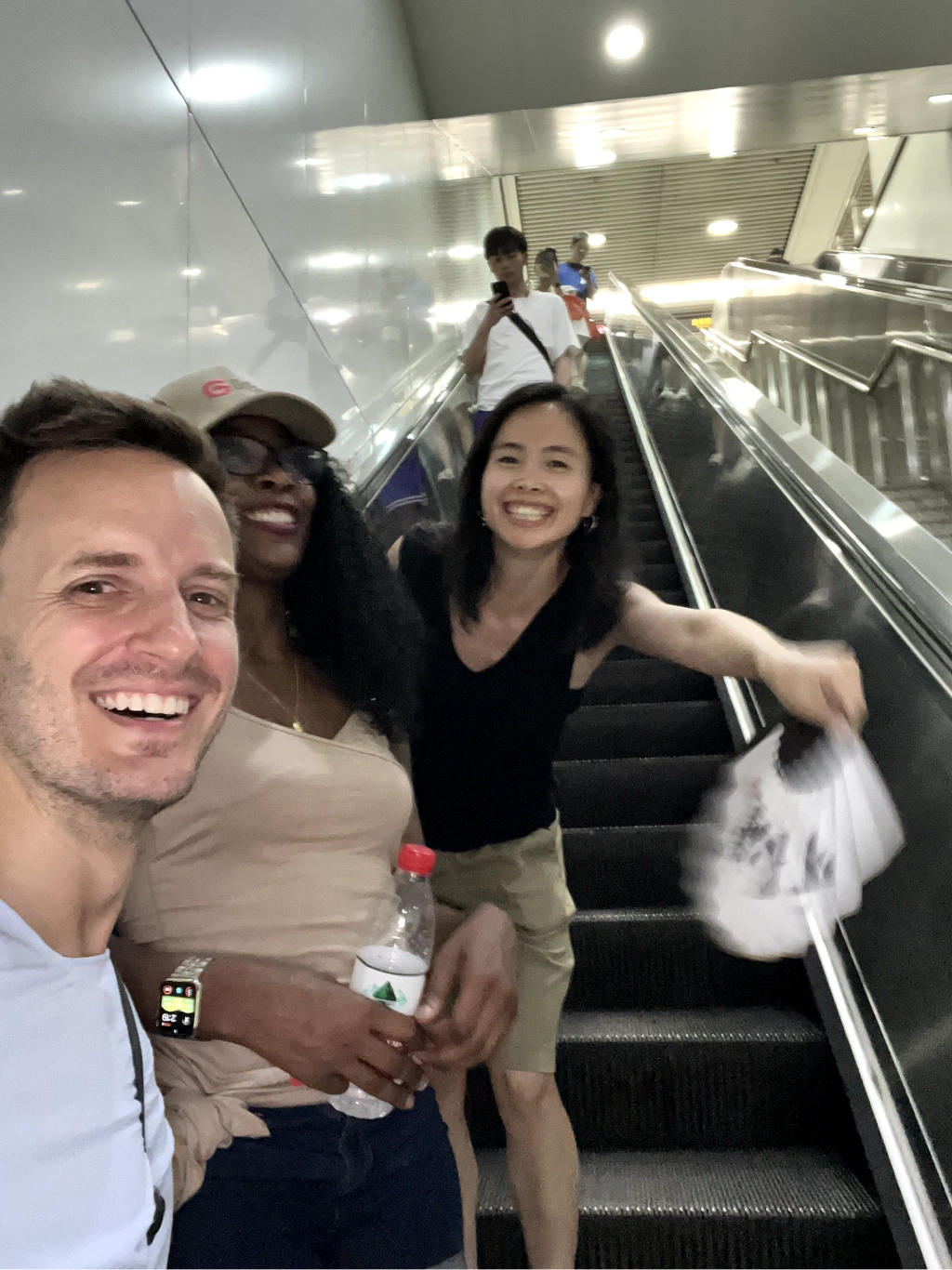 After-class adventures.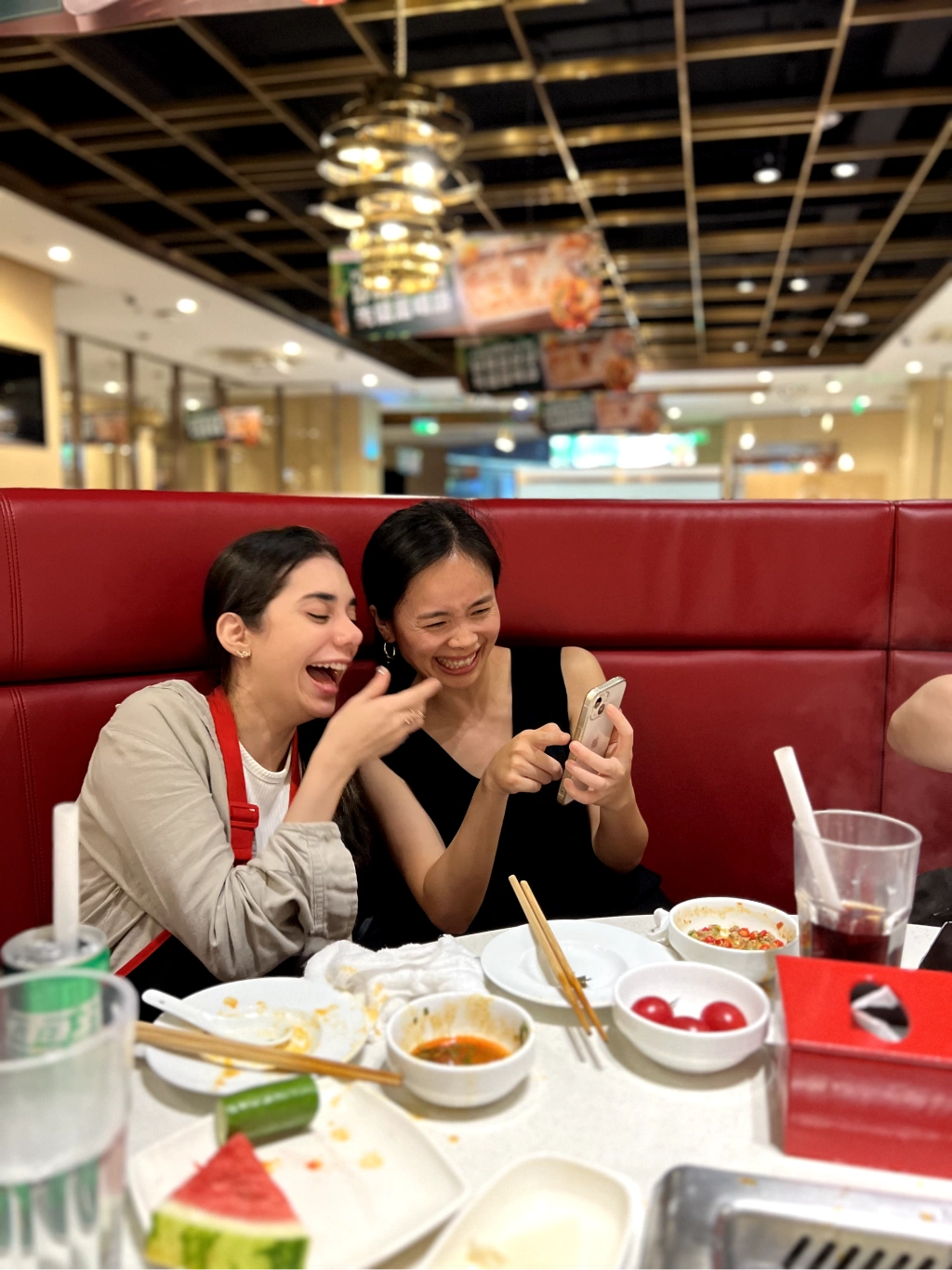 Presumably, these two were reading someone's opinion on why *not* to use Hack Chinese to increase your Chinese vocabulary…?
The last day of the Shanghai portion of China Quest, 2023.
Conclusion
I've lived in Beijing and Shanghai (many years ago), and have resided in Hong Kong for the past nine years — and even I thought this trip was spectacular.
If you have the time and can afford it, it is worth seriously considering — especially if you have never been to China.
Every aspect of the trip was on "easy mode": arranging a visa, booking the hotel, airport pickup, excellent instruction, and teacher-guided in-field exercises.
If you've been studying Chinese for a while, sooner or later, you'll probably ask yourself, "What is it all for?"
China Quest could be one part of that answer.
Applications are Open!
GoEast is currently accepting applications to their winter program (Dec. 25th, 2023, to Jan. 5th, 2024) and next year's summer program (Summer 2024).
(If you mention Hack Chinese, you'll get three free private lessons and a free massage. What!!? 🙂